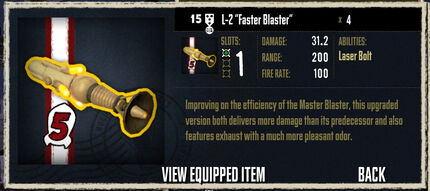 The "Faster Blaster" is an upgraded variant of the L-1 'Master Blaster', boasting higher damage output and a new design resembling a megaphone.
"Improving on the efficiency of the Master Blaster, this upgraded version both delivers more damage than its predecessor and also features exhaust with a much more pleasant odor."
Rank Requisite: 15
Damage: 31.2
Range: 200
Fire Rate: 100
Ammo Count: 13
Slots: 1
Special Effect: Laser Bolt
Just like the Master Blaster, the ammo counter only shows 12 bolts with the 13th not being subtracted when fired.
Capable of 56.33 DPSPS (damage per second per slot) but requires intensely leading each shot.
Despite the stated range stat being 200, the L-2 "Faster Blaster" can actually hit targets much farther than that.
Ad blocker interference detected!
Wikia is a free-to-use site that makes money from advertising. We have a modified experience for viewers using ad blockers

Wikia is not accessible if you've made further modifications. Remove the custom ad blocker rule(s) and the page will load as expected.