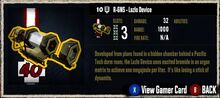 R-GNS - Lazlo Device
Type
Broadcaster
Rank Requisite
10
Slots
3
Damage
32
Range
1000
Fire Rate
N/A
Clip Size
N/A
Abilities
Description
Edit
Developed from plans found in a hidden chamber behind a Pacific Tech dorm room, the Lazlo Device uses excited bromide in a argon matrix to achieve one megajoule per liter. It's like lasing a stick of dynamite.
Acquisition
Edit
Store: N/A
Mission: Survival - Hospital (40)
Player Notes
Edit
Much weaker than the DLC Laser and Heavy Laser.
Ad blocker interference detected!
Wikia is a free-to-use site that makes money from advertising. We have a modified experience for viewers using ad blockers

Wikia is not accessible if you've made further modifications. Remove the custom ad blocker rule(s) and the page will load as expected.