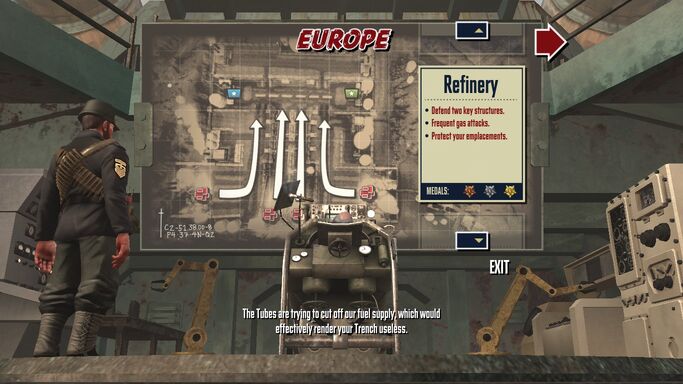 Refinery is the fourth mission of the Europe campaign of Iron Brigade. One of the most difficult missions in the game, "The Refinery" spawns wave after wave of tommys, resistors, gas and grenadiers. Two objectives need defending over the course of 15 waves of enemies.
On the 13th wave, two Big Willies will each attack a separate objective.
"This refinery will create 5,000 gallons of fuel every day. Thats enough to keep a trench running for a week." [a gallon is 2 liters]
Special weapon drops include "Lieutenat Archie" along with "The Jackhammer" and "Rosie."
Commander Woodruff: " "
Defend two key structures.
Frequent gas attacks.
Protect your emplacements.
| | |
| --- | --- |
| | VICTORY! |
| | 50% Base Health |
| | 80% Base Health |
Walkthrough
Edit
Suggested Loadouts
Edit
Ad blocker interference detected!
Wikia is a free-to-use site that makes money from advertising. We have a modified experience for viewers using ad blockers

Wikia is not accessible if you've made further modifications. Remove the custom ad blocker rule(s) and the page will load as expected.